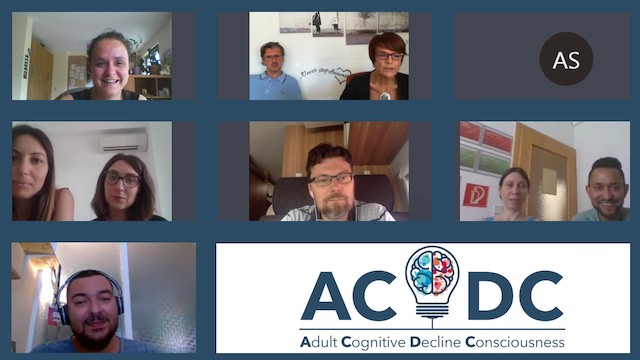 1st July 2020 - 5th Project meeting
5th PROJECT MEETING
The partners met each other virtually because the meeting was realized online due to COVID 19. Despite of it, the meeting reached its objectives. In particular: review of the final version of the IO3, the results of the project and the final report.
Main topics of the official agenda:

•     I.O.3
•     Dissemination activities
•     Final report
•     Multiplier events
2 - 3 December 2019. 4th Transnational project meeting in Brussels
The meeting was hosted by DIESIS COOP scrl-fs From 5 to 6 March 2019.
Main topics of the official agenda:
General overview
I.O.2 - New Edutainment training module - Accademia Nazionale di Medicina / ALL
Summary of the state of the art
Presentation of the testing phase data
Evaluation from the participation feedbacks
Assessment on expected results and feedback parameters fort the evaluation
I.O.3 - Guideline on health literature - Die Kärntner Volkshochschulen/ ALL
Collecting inputs from the pilot phase
Definition of the contents and planning of the action
5 - 6 March 2019. 3rd project meeting in Klagenfurt
The meeting was hosted by Die Kartner Volkshochschulen From 5 to 6 March 2019.

During the third meeting ACCMED introduced the platform and the basic concept for the games proposed. The platform is going to be ready and the fun can start soon! The host organization invited a regional newspaper to the meeting on the second day. They interviewed the consortium about the project, the partners and the major expected outcomes after the completion of all the activities. The press conference was also relevant to start spreading the information on the forthcoming pilot action in the Kärnten region.
Main topics of the official agenda:
I.O.2 - New Edutainment training module

Presentation of the test about cognitive decline
Presentation of the platform and the games
Assessment on expected results and feedback parameters fort the evaluation
Planning the testing phase in each country

Dissemination activities
Planning of following steps and meetings