ACDC partnership met for the fourth time in Brussels, from the 2nd to the 3rd of December 2019.
It was the occasion to present the state of the art of the project and in particular the testing phase related to the edutainment platform (IO2) with a presentation of the results and feedbacks received since the platform was launched. The partners were also able to point some technical feedback about it, in particular about translation and think about way to attract more people on it.
Main topics of the official agenda:
Output 2: New Edutainment training module
Presentation of the state of the art, the testing phase data and the evaluation.
Output 3: Guideline on health literature
Presentation of the collecting inputs from the pilot phase and discussion about the contents and the future action to take.
Project management duties and deadlines
Presentation of the forthcoming project interim report duties and the rules and financial aspect related to the multiplier events
Dissemination activities
Presentation of the project tools (social media, newsletters…), actions plans and results since the launch of the platform.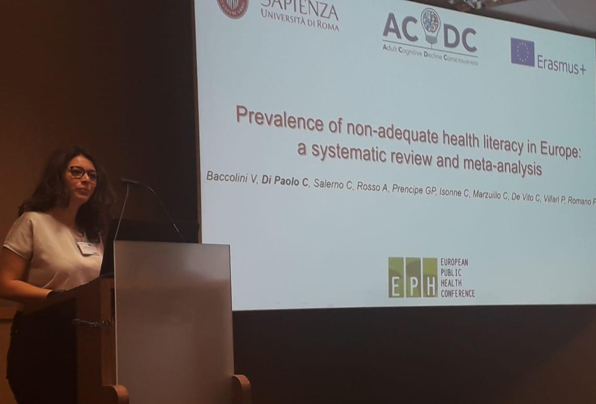 12th European Public Health Conference: Building Bridges for Solidarity and Public Health
Marseille, France , 20-23 November 2019 | European Public Health Association (EUPHA)
Carolina Di Paolo, Sapienza University of Rome
Target audience: Public health professionals, researchers, policymakers, practitioners and educators in public health
Number of participants (more or less): A total of 2,500 delegates from 84 countries worldwide attended the Congress
We presented a study that was conducted as part of the ACDC project that investigated the prevalence of non-adequate health literacy in European Union Member States to estimate its magnitude and contribute to the understanding of the underlying predictive factors.
A consistent percentage of people living in Europe may have non-adequate health literacy, meaning that they could have difficulties in accessing to prevention and healthcare services due to limitations in navigation, comprehension and decision making. This study underlines the importance of health literacy as a crucial determinant of health.
Conclusions: The Congress represented a good opportunity to illustrate to a wide audience of experts the reasons why interventions aimed at improving health literacy are strongly needed in Europe.
Link of the event or host website: https://ephconference.eu/marseille-2019:-building-bridges-for-solidarity-and-public-%20health-95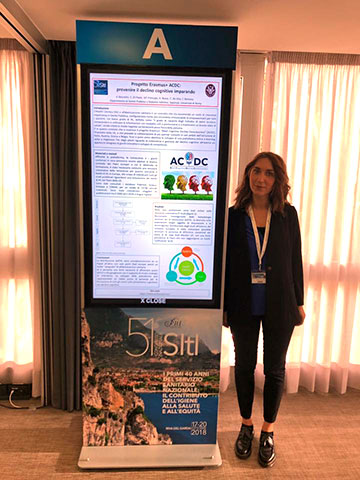 51° National Public Health Congress
ACDC project Health Literacy in Europe and cognitive training in people with MCI research was presented by the partner La Sapienza University at the 51° National Public Health Congress organized by the Italian Society of Hygiene and Preventive Medicine and held from 17 October 2018 to 20 October 2018 in Riva del Garda (TN), Italy. The Congress that reached around 800 Public Health professionals (physicians, professors, nurses, midwives, …) at Italian national level, represented an excellent opportunity to illustrate the main objectives of the project, reaching a wide audience of interested people in disease prevention and management.